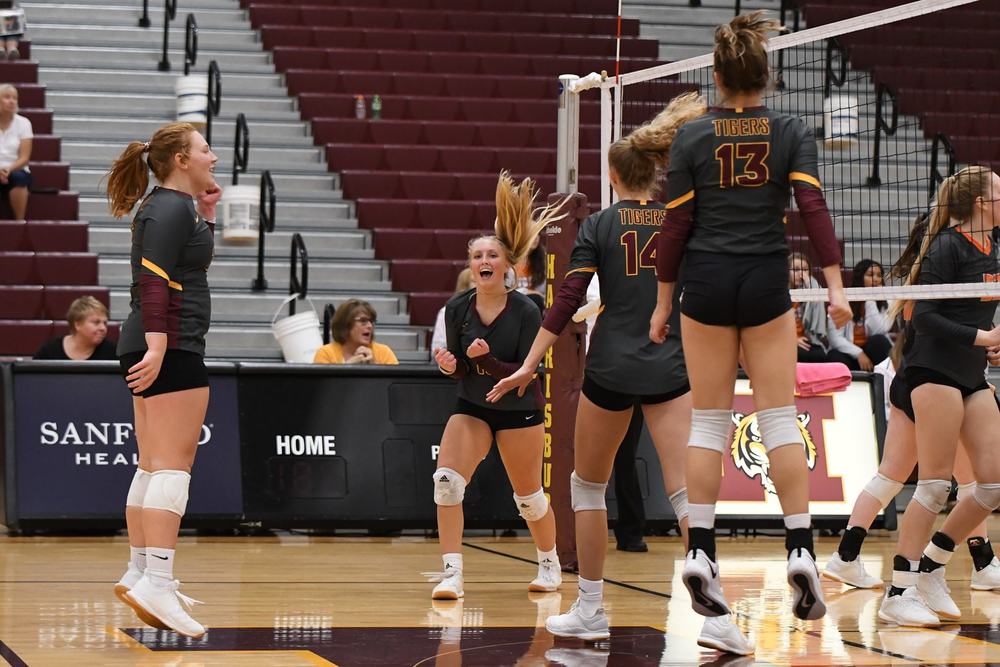 ​HHS Volleyball Seeks Success
Molly Parsons
Monday, September 16, 2019
The Harrisburg Tigers started out their season with a variety of goals and tactics. Over the summer, a camp called Volleyball 1-on-1 out of California visited players and coaches for three full days of cap. During this time, the team explored new strategies and team unity, which continue to serve as focus points throughout the season. With these adjustments, difficulties can arise for both players and coaches alike. Players encounter challenges altering positions and bettering their current skillsets, while the coaches face challenges making decisions that benefit the team, as a whole.
Ronette Costain, the head coach, constructed two goals from experiences in past seasons: "1. To continue to play and improve as the season goes on. 2. To make it back to state as a contender." Last season, the Tigers fell short before State and did not proceed as far as they hoped; since the team aspires to finish stronger this season, they have formed a foundation of goals and hard work. Avery Kirkey, who is a senior, talks about her current varsity season: "The last three years became an outline to how I want my senior season to develop. Because of the culture the Tigers have created, each and every player has to strive to be the best player they can be." In turn, the coaches model a competitive, wholesome mindset to the players that emphasizes both a commitment to the game and a focus on improving areas of weakness.
Another element of volleyball fixates upon the ability of athletes to play in multiple positions. A sophomore on the team, Abby Meister, talks about her versatility to play different positions: "At first, I was a little confused because I had different areas of the court to cover. Now that I know what to cover, I love it, and I am learning lots of new skills." The advantage of developing players to thrive in multiple positions is an asset that will help the team progress throughout the season. The Tigers continue to work hard to set themselves up for success for both regular season and post season play.
Photo Courtesy: Jon Klemme