District Building-Level Status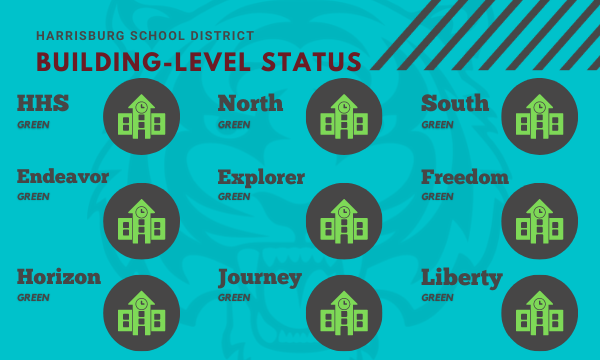 Back to School Restart Plan
The Harrisburg School Board approved a Restart Plan (7/20) in a special board meeting. There will continue to be updated to the document in the coming weeks, so be sure to check back for any modifications that may occur, and we will notify you as they are made.
CDC works 24/7 to protect America from health, safety, and security threats, both foreign and in the U.S. Whether diseases start at home or abroad, are chronic or acute, curable or preventable, human error or deliberate attack, CDC fights disease and supports communities and citizens to do the same.

The South Dakota Department of Health (SD-DOH) continues to respond to the emergence of the novel coronavirus. We are working with the CDC and our healthcare partners across the state to protect South Dakotans from COVID-19.

During times of crisis and school closure, the Harrisburg School District (HSD) is committed to working with families, community members, and industry partners to ensure that every learner receives the equitable support necessary to meet their basic, emotional, social, and academic needs. To that end, the action plan outlined herein provides a functional framework for day-to-day operations during extended periods of academic disruption and/or irregular scheduling.

Corona Help Sioux Falls is an initiative of Sioux Falls Churches to help our community during this difficult virus outbreak. We want you to know that God loves you. We are currently helping in the following ways. First, we will deliver necessities to your home if you are unable to leave home because of the virus. Secondly, we are having Food Distributions to ensure that every child in Sioux Falls has access to daily nutrition.

In response to the Coronavirus pandemic, the Sioux Falls Area Community Foundation, in partnership with the City of Sioux Falls and local businesses, has established the One Sioux Falls Fund, a disaster fund to help residents in the Sioux Falls MSA (Minnehaha, Lincoln, McCook, and Turner counties) avoid evictions if they are unable to work due to COVID-19. Nonprofits, the County and the City will coordinate to distribute the funds to make sure assistance gets into the right hands.

The focus of the One Sioux Falls Fund is to help individuals/families avoid evictions.

211 provides a 24/7 hotline that is connected to a trained team that is able to provide up to date information. If you need assistance finding food, or basic essential needs, call 211 to speak to someone who can help.

Fannie Mae, Freddie Mac (the Enterprises) and the Federal Home Loan Banks are taking steps to help people who have been impacted by the coronavirus. If your ability to pay your mortgage is impacted, and your loan is owned by Fannie Mae or Freddie Mac, you may be eligible to delay making your monthly mortgage payments for a temporary period, during which:

You won't incur late fees.

Foreclosure and other legal proceedings will be suspended

The Harrisburg Food Pantry is located at 203 Prairie St, Harrisburg, SD, and is open Monday, Wednesday, and Friday from noon to 4 PM.

Mobile Food Pantries travel across South Dakota distributing free food to individuals and families in need. These distributions supplement the work of agency partner pantries, shelters, and meal sites operating in fixed locations. The Mobile Food Pantry Program began in January of 2013 and is now serving 45 of the most underserved communities where individuals and families lack access to adequate and nutritious foods.

We've curated a list of resources for parents to enrich learning for their children at home.

USDA and its Federal partners have programs that can be used to provide immediate and long-term assistance to rural communities affected by the COVID-19 outbreak. These programs can support recovery efforts for rural residents, businesses, and communities through:
• technical, training, and management assistance;
• financial assistance; and
• state and local assistance.

Serving under or uninsured individuals, couples, and families with limited funds.