Correct Usage of District Logos
DO use a .PNG file format (with a transparent background) when putting image against a color background.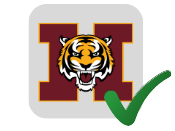 Redrawing, tracing, scanning, or use of photocopies of the logo results in distortion and a loss of sharpness.

Do not use a low-quality image (blurry, pixelated).

Avoid using design features such as skewing, rotating, or including the logo as part of a pattern or larger image. Such uses tend to diminish the goal of visual consistency set forth in these guidelines.

Do not outline, emboss, bevel, or add other special effects.

Do not add any additional design elements or text.
Do NOT use a .jpg image with white background against a colored background.
Do NOT change the color of the logo.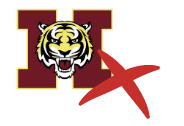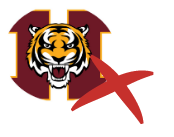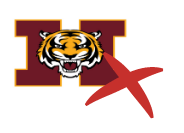 TheTable following colors should be used for all HSD materials. Alternative colors should be avoided.

Tiger Maroon
HEX: #6C1C24
RGB: 108, 28, 36
PMS: 188 CP

Charcoal
HEX: #474646
RGB: 71, 70, 70
PMS: 4147 U

Tiger Gold
HEX: #FBAC1C
RGB: 251, 172, 28
PMS: 1235 CP

Cool Gray
HEX: #A4A4A4
RGB: 164, 164, 164
PMS: 6 U

Black
HEX: #000000
RGB: 0, 0, 0

Bright White
HEX: #FFFFFF
RGB: 255, 255, 255