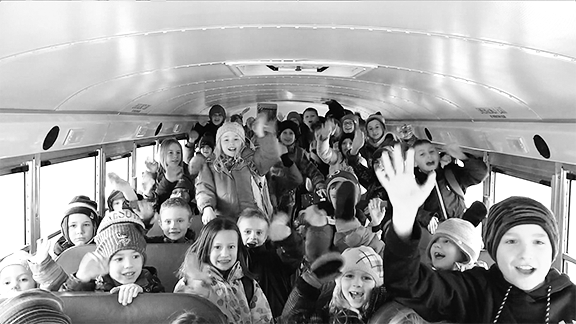 If you've lived in Harrisburg for any length of time, this face may look familiar to you. As a bus driver for the Harrisburg School District for the past 50 years, George VanDenHul has transported many Tigers safely to and from school. "I moved to Harrisburg in '66, and started driving that fall."
His first routes for Harrisburg were about 35 miles long and went as far as NW of Tea to 41st Street in Sioux Falls. He also had a route that went west of Worthing. The route took about an hour and a half, and picked up about maybe 48 students.
In total, there were five buses, five bus drivers and 5 routes, and a total Harrisburg population of about 330 residents.
By comparison, George's most recent route in town, #17-2 to Freedom Elementary, went about 8 blocks, was 7 stops, and picked up about 70 students in 35 minutes, start to finish. Harrisburg currently has 33 buses, 26 routes and 38 CDL drivers.
What you may not realize about George, unless you've reallylived in Harrisburg a long time, is that George was a true Jack of all Trades in the community and helped to establish a lot of the local landscape you enjoy today.
In 1966, George moved to Harrisburg to purchase the location you may now know as Fresh Horses. "I had The Station in town, 'George's Service' and I drove [bus] at the same time. My wife ran The Station while I ran the kids, and she drove a couple of years for me."
"In 1967, I bought my own bus. I went to North Carolina to pick it up. I owned the chassis and the school owned the bus. I think I paid $3,400 for the chassis and they paid about the same for the bus. But now, it costs about $100,000 for a bus! And then I bought another one from Lawrence Johnson, so I owned two and hired drivers."
Danny Harris, Sr., longtime Harrisburg resident and fellow bus driver, said, "Oh. [He] fixed tires, he hauled gas for the co-op in Canton, for years. He owned The Station and the bar, of course. George helped start the original fire department, too. He was instrumental in it. The fire station was where the City building is now. George was fire chief for a few years."
"He was pretty 'volunteer-ish' all through his years here. He's done a lot for this community. A lot. [When he owned the bus] in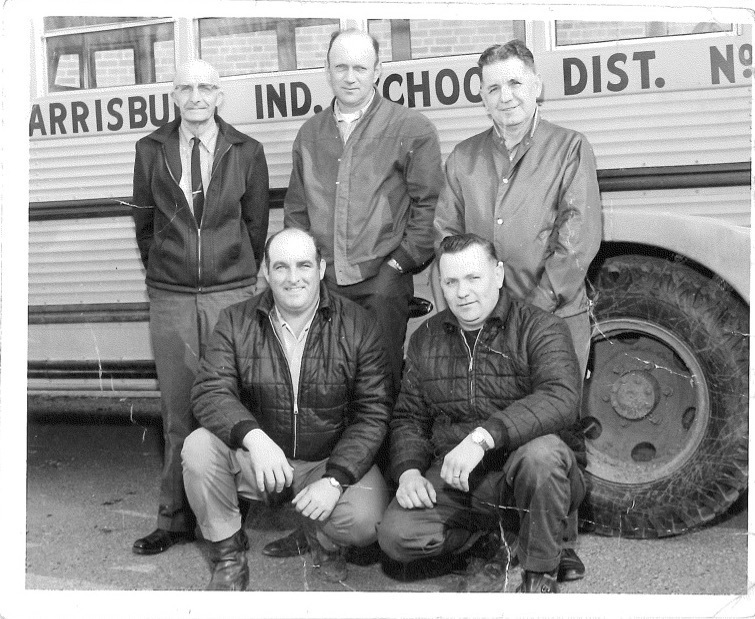 Harrisburg bus drivers (circa late 1960's): (Back, L-R) Neil Slack, Norman Enger, Clayton Fink, (Front, L-R) Robert Slack, George VanDenHul
the fall, he always took football teams at the end of the season to the Vikings games. And then dads and kids could go. So we all got to go up to Vikings games, and he drove."
Baseball was another of the many ways George contributed to the community. "One of his passions was baseball. He's the one who got the original baseball field, as it is today... Rabbit hunts and stuff that we did to raise money for that. Tractor pulls... He was heavily involved in baseball. He coached a lot of baseball teams,very successful baseball teams."
Although not in the same form it is today, George, Danny and Bob Fink helped to organize the first Harrisburg Days. "Harrisburg Days were way back in the 60's. The fire department sponsored the tractor pulls. Tractor pulls were huge. We'd have a hundred some tractors here. And then we'd have the barbecue. George was very instrumental in that."
Over the years, George also ran Harrisburg and neighboring towns' garbage service, had a hardware store to the south of the bank near Willow and Railroad Avenue, and sold tools out of the Snap On truck he owned.
George says its hard to believe all the changes Harrisburg has experienced in recent years. "I built a house nine years ago, south of the high school, and I was the only one out there. Now there are houses all over the place!"
Recent health issues kept George from driving this year, and it was a tough decision for George to retire. When asked what he'd miss the most about driving, without hesitation he said, "The kids. Especially the last few years, I had 5th and under. The last year
I drove I had 21 kindergartners, and I can handle them!" he said with a laugh.
Now in retirement, George looks forward to working in his garden. Daughter, Julie Ruud of Harrisburg says, "Dad has a green thumb, loves his trees and flowers. He always has a large garden with huge onions that he took a lot of pride in."
Roger Timmerman, Harrisburg's Bus Captain, says his bus route kids still ask about him. They want to know when George is coming back and how he's doing. Danny says he always got more Christmas gifts than any of the other drivers.
Julie says, "People (adults & children) are drawn to Dad. He is quick to make them laugh. We run into people of all ages that recognize George as their bus driver from waaaay back in the day. He takes a lot of pride in the fact that he drove some kids on his bus and that he also hauled some if their parents and grandparents."
George and his wife, Janet have four children. Daughter, Julie Ruud and her husband, Vern, reside in Harrisburg. Son, Jerry, lives in Omaha with his wife, Theresa. Son, Jeff, and his wife, Lorynda, live in McCook Lake. Daughter, Jill, lives in Mitchell.
The Harrisburg School District wishes George all the best in his retirement and thanks him for his service to the community over the past 50+ years.
Once a Tiger, Always a Tiger.